UGA Student Veterans Resource Center Honor Cord Ceremony and Scholarship Reception
On May 4, 2022, the Student Veterans Resource Center hosted the first in-person Honor Cord Ceremony since 2019 for the 79 student veterans eligible to graduate this calendar year. The Honor Cord serves as a symbol of gratitude for the student veteran's unique life experience, maturity and perspective that student veterans bring to classroom discussions and out-of-class activities to enhance the overall educational experience of all UGA students.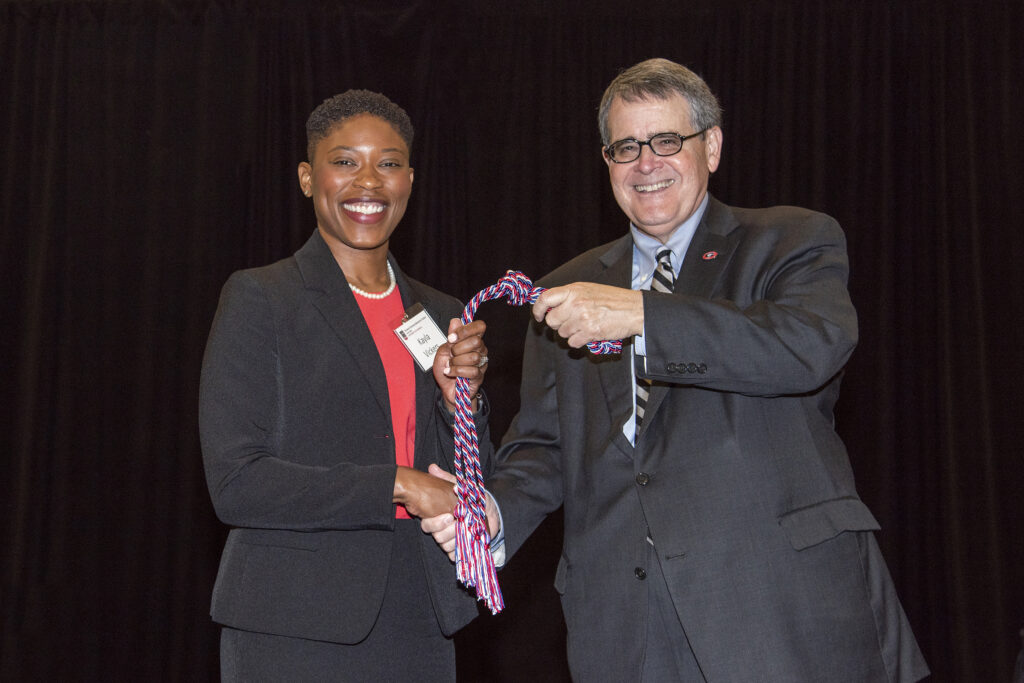 Graduating students who received honor cords from President Morehead and their areas of study are as follows:
John Anderson Master of Accountancy
Anthony Blankenship BS, Electrical Engineering
Heather Brown BSFCS, Furnishings and Interiors
James Burris II Master of Business Administration
Benjamin Causey Juris Doctor
Anastasia Croft MEd, Science Education
Dylan Cruz BSEd, Exercise and Sports Science
Starlyn Endres Juris Doctor
Cynthia Fallness Master of Food Animal Medicine
Reid Ferrero Master of Landscape Architecture
James Fulton BS, Mathematics
Anna Gardner Master of Business Administration
Jonathan Gardner Master of Business Administration
Parker George BA, Sociology
Jason Hedrick Master of Business Administration
Alexander Hill Juris Doctor
William Joines Master of Business Administration
Wallace Jones Master of Social Work
Joseph Jung BBA, Management Information Systems
Jacob Lay Master of Business Administration
Nathan McCreary Master in the Study of Law
Brian Mulwo Master of Social Work
Lisa Newman PhD, Learning, Leadership and Organizational Development
Mensford Owusu Master of Social Work
Josh Patten BSFCS, Financial Planning
Jackson Perry Master of Business Administration
April Phillips BS, Biology
Josh Rayfield BBA, Finance
Nathan Schoffer Master of Business Administration
Michael Scott Master of Business Administration
Gabriel Shaber BBA, Finance
Tyerus Skala Juris Doctor
Jacinta Smith Doctor of Public Health
Mason Strain Master of Business Administration
Nicholas Trevena Master of Business Administration
Adrian Valdivia Roman BBA, Risk Management and Insurance
George Vaughan Doctor of Public Health
Rina Velasco BS, Mechanical Engineering
Kayla Vickers Master of Business Administration
Melody Weisbaum Master of Social Work
Matthew Welker Master of Business Administration
Eric Williams Master of Business Administration
Andrew Wilson BS, Mechanical Engineering
Allan Wiltshire Master of Business Administration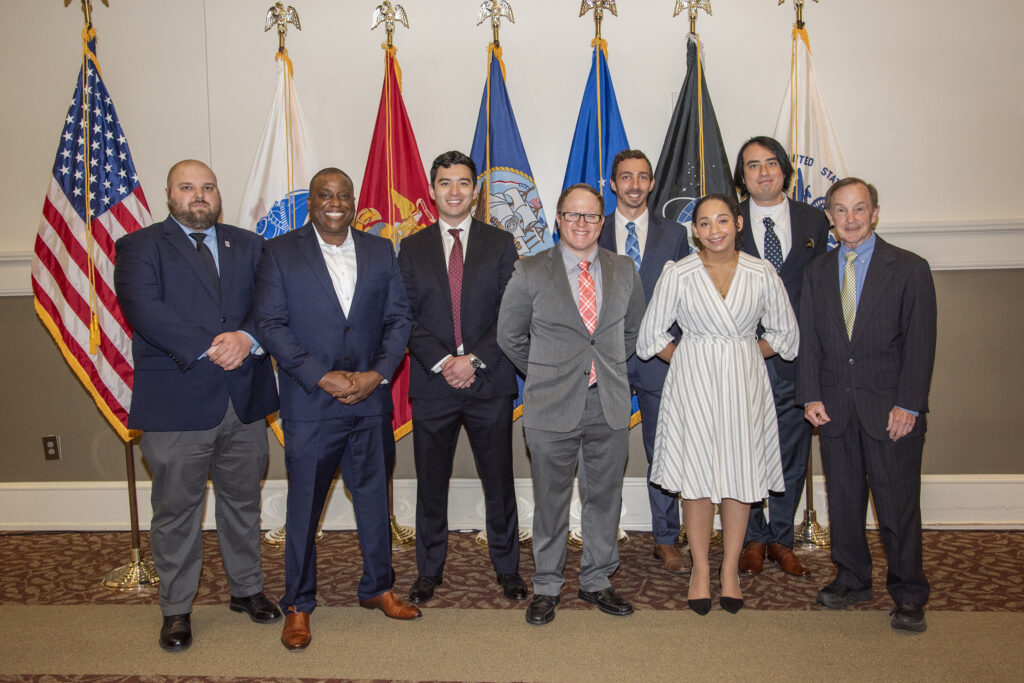 In addition to the Honor Cord Ceremony, the Student Veterans Resource Center (SVRC) granted ninety-eight awards and scholarships with a combined value of $70,700. Thanks to the generosity of both individual and corporate donors, more than 193 scholarships with a combined value of $120,400 were awarded this academic year alone, which has doubled in the last 3 years.
Student veterans who received scholarships at the May 4th ceremony are as follows:
Lockheed-Martin STEM Awards: Matthew Aluisio, Brandon Anderson, Anthony Blankenship, Hunter Bradford, Charles Bradford, Thomas Carroll, Jamie Coppola, Dylan Cruz, Caitlyn Davis, Joshua DeJongh, Adam Drew, Leisli Duran-Rosales, Joseph Jung, William Lord, Andrew Perez, Tyler Putt, Brennen Sanders, Nicholas Sesing, Holly Simon, Persia Tillman, Rina Velasco, Tamera Wallace, Andrew Wilson
Lockheed-Martin Experiential Learning Awards: Ricardo Bean, Anna Gardner, Jonathan Gardner, Jacob Lay, Nathan Shoffer, Matthew Welker
Corporal Evan Andrew Marshall Memorial Scholarship: Ricardo Bean, Nicholas Dobie, Michael Hines, Frank Woods
Reynolds Veterans Association Endowed: Grant McDonald, Allan Wiltshire
UGA Parents Leadership Council Awards: Cala Connell, Elizabeth Decesare, Erich Jochimsen, Eric Martin, Josh Patten, Josh Rayfield
Frances Wood Wilson Foundation: Starlyn Endres, Judah Robinson, Tyerus Skala
Military Order of the Purple Heart: Tyler Putt
James and Jessica Whitley Scholarship: Johnathan Anderson, Alexander Hill, Mensford Owusu, Matthew Welker
COL and Mrs. James A. Franklin Scholarship: Caleb Ray and Jason Badia
Richard and Sherry Barrett Scholarship: Jonathan Florencio
Richard Warner- Grit Award: Edward Bakhos, Jalynn Colvin, James Greco, Theodore Waldron, Wallace Jones, Shane Kozusko, Stanley Mayfield, Julian Saviano, Brian Ulbricht, Matthew Walshe
Kropp Student Veterans Scholarship: Jason Hedrick
Fitzgerald Family Veteran Scholarship: Sophia Haynes and Gabriel Shaber
Yates Family Scholarship for Student Veterans: James Graco, Grant McDonald, Josh Rayfield, Judah Robinson
Chu Family Foundation Awards: presented by the Chu Family Foundation: Caitlyn Davis, Jonathan Florencio, Gabriel Strickland-Chism, Brian Mulwo, Melody Weisbaum, Eric Williams
SVRC Excellence Awards: Benjamin Causey, Jeff Hannon, Lamar Johnson, Nathan McCreary, Nicholas Trevena, Robert Wedge
SVRC Impact Awards: Jordan Botte, Blaise Gargiulo, Marie Jacobs, William Joines, Mike Newberry, Mason Strain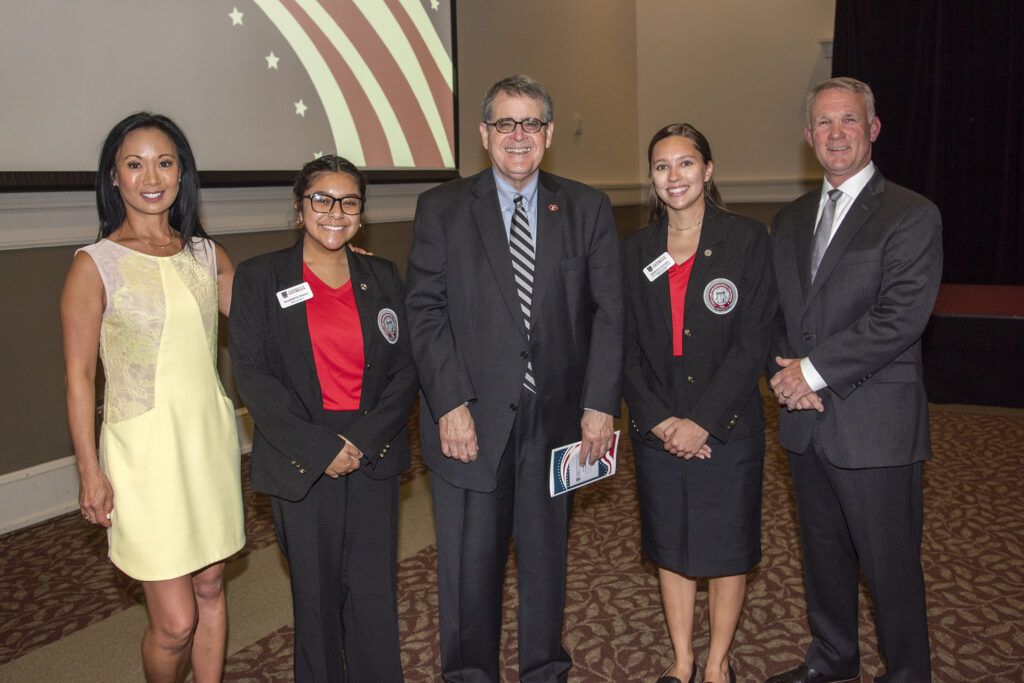 Director of the Student Veterans Resource Center, Dr. Jon Segars (pictured far right) said, "We are thankful to our generous donors who have made these scholarships possible.The majority of our student veterans are older, have families and/or have life responsibilities such as a mortgage or car payment…
…While military benefits offset some of the costs, individual student veterans must find additional ways to be self-supporting. This semester's scholarship awards represent the largest number of recipients in a single semester, and we are grateful to our generous donors who provide support to these deserving student veterans."
The Student Veterans Resource Center is a department within UGA's Division of Student Affairs. As part of its purpose, the SVRC partners with The Student Veterans Association, whose members provide student veteran leadership and collaboration on campus.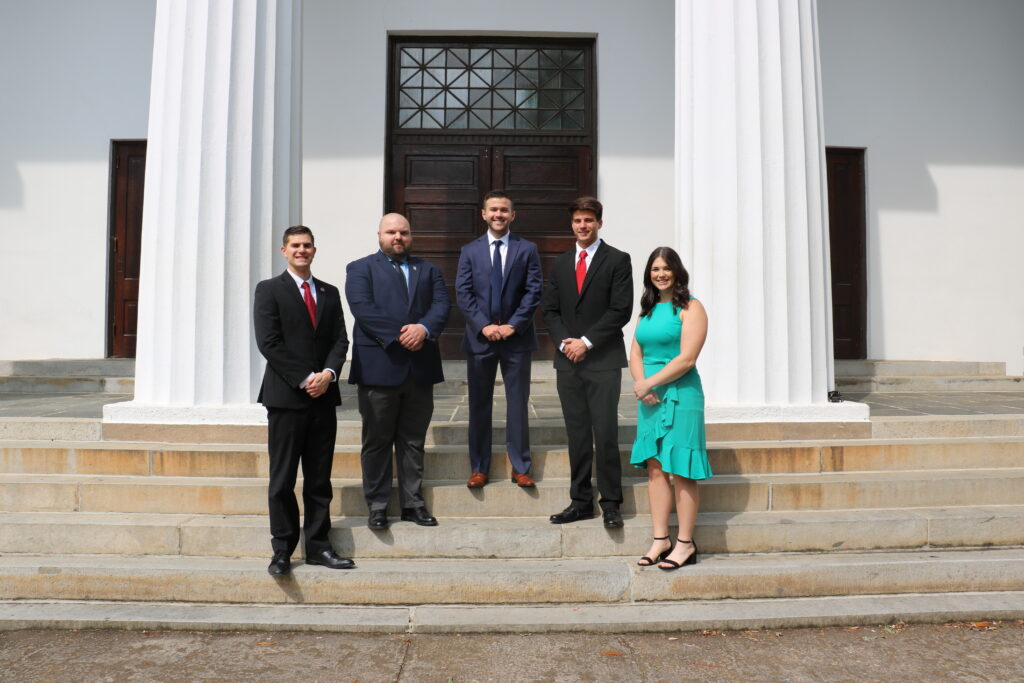 For more information regarding the SVRC, contact Jon Segars at 706-542-7872, email jon.segars@uga.edu or learn more online at svrc.uga.edu
By Amber George